The Tutor"who's teaching the course"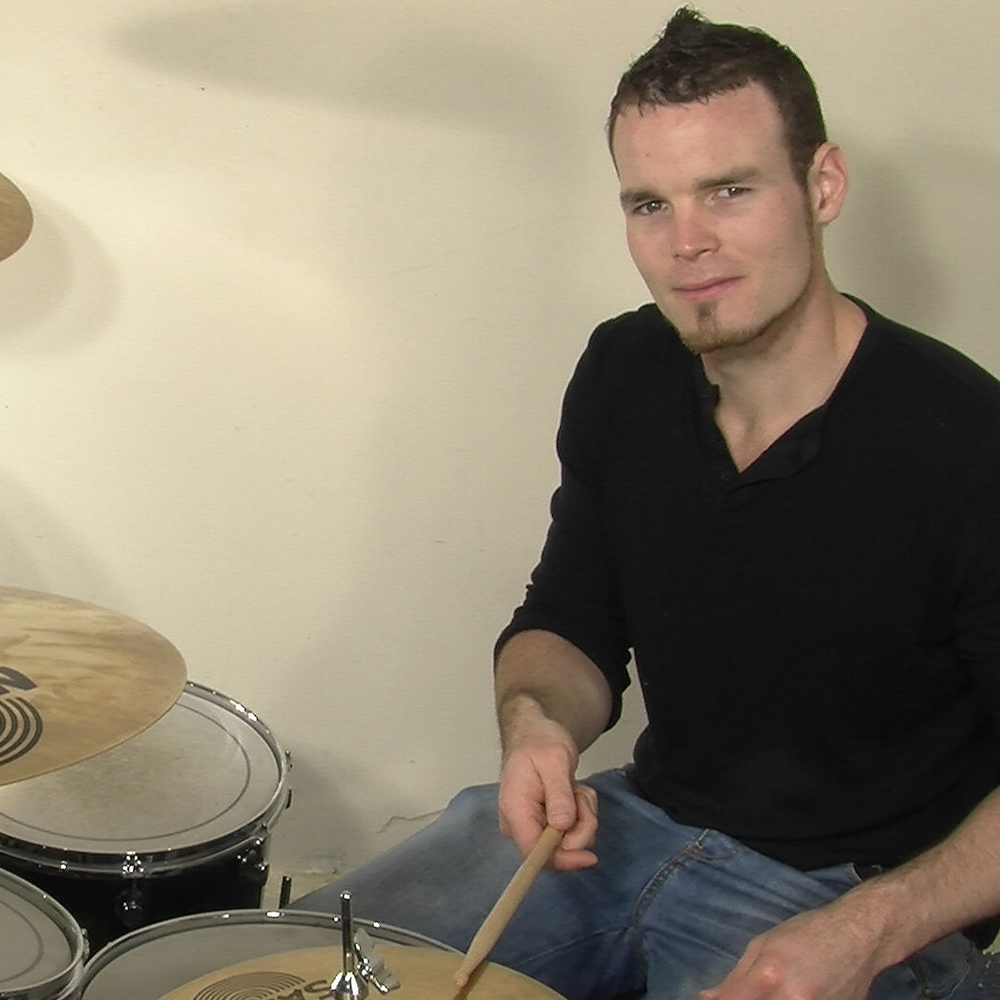 Duncan Lee
" I have been drumming for 13 years now. I have studied with several great teachers who have all had a big impact on my approach to the drums including Glen Child, Oli Baxendale, Dan Foord, Steve Vintner and Will Gates.

Over the past 9 years I have focused on building strong relationships with my students. I offer extreme flexibility in my teaching method to suite every type of student. I sit my students through Rockschool and Trinity Guildhall exams. It never seizes to amaze me just how capable students can be if they are given effective tools to help them tackle any obstacle in their drumming lives! I feel very comfortable teaching all genres of music and have sat over 200 students in for exams. I strongly believe that students have a lot more to learning after grade 8 and I will do my best to stop complacency once this grand target has been reached! "
Synopsis"what it's all about"
Duncan's beginner drum course teaches the skills and techniques that are essential for every drummer to know. His techniques will set you on the right path and help you avoid common mistakes made by drum students. The course starts with the basics of maintaining and setting up your kit and progresses on to drum routines for you to practice and master.
Structure"what you will learn"
Lesson 1 - Identifying Parts of the Drum Kit
Lesson 2 - How To Reskin Drums
Lesson 3 - Tuning Drums
Lesson 4 - Setting Up The Drum Kit
Lesson 5 - Grips, Fulcrums and Counting Methods
Lesson 6 - Mnemonics
Lesson 7 - Mnemonics
Lesson 8 - Basic Handwork
Lesson 9 - Basic Foot Work
Lesson 10 - Basic Hand and Foot Work
Lesson 11 - Single and Double Stroke Rolls
Lesson 12 - The Paradiddle
Lesson 13 - The Basic ¼ Note Rock Groove
Lesson 14 - ¼ Note Bass Drum Variations
Lesson 15 - ¼ Note Snare Drum Variations
Lesson 16 - The Basic 8th Note Rock Groove
Lesson 17 - 8th Note Bass Drum Variations
Lesson 18 - 8th Note Snare Drum Variations
Lesson 19 - Using The Crash Cymbal
Lesson 20 - Mnemonic Fills
Lesson 21 - Groove & Fill Exercises

Practice Routines"what you will play"
It won't be long before you are tapping your first beat. The lessons have a series of exercises that will help you master the technique that is being looked at in the lesson.

We recommend practicing the exercises for about a week before you move on to the next lesson and next set of exercises. Short regular practice sessions work best and we recommend around 15 minutes a day at first. Slowly increase practice sessions, give yourself chance to build muscle memory and dexterity over time.