The Tutor"who's teaching the course"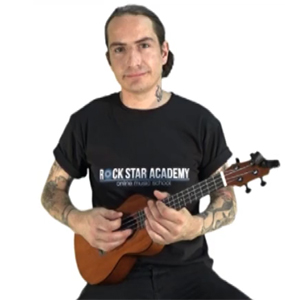 Stretton Payne
"As a seasoned guitarist and instrument maker I love all things with strings on them. For me the ukulele is special because its small and compact, easy to carry around, relatively cheap and if you know a little guitar you can transfer the skills you already have straight over to the ukulele. I wanted to produce this ukulele course to demonstrate these tricks and run through some ukulele basics."
Synopsis"what it's all about"
In this course we are going to start with the basics then work through all the techniques for Ukulele, chords, scales, bar chords, picking and rhythm patterns right through to hammer-ons pull-offs, arpeggios and full compositions.
Structure"what you will learn"
Lesson 1 - Tuning the Ukulele
Lesson 2 - Chromatic order
Lesson 3 - Playing your first song
Lesson 4 - Major chords
Lesson 5 - C scale
Lesson 6 - Minor chords
Lesson 7 - Seventh chords
Lesson 8 - Strumming patterns
Lesson 9 - Extended Chords
Lesson 10 - Picking chords
Lesson 11 - Picking over chords
Lesson 12 - Bar chords
Lesson 13 - More Bar chords
Lesson 14 - Drum beat technique
Lesson 15 - Pentatonic scales
Lesson 16 - Arpeggios
Lesson 17 - Slide + String Bending + Hammer On Pull Off
Lesson 18 - Harmonics + Artificial Harmonics + Pinches
Lesson 19 - Trilling + Tapping + 2 Strings
Lesson 20 - Fast string picking
Lesson 21 - Spanish style
Lesson 22 - Blues + Playing with a slide - bluegrass
Lesson 23 - Banjo roll + Billy Jene
Lesson 24 - Final Picking Melody