The Tutor"who's teaching the course"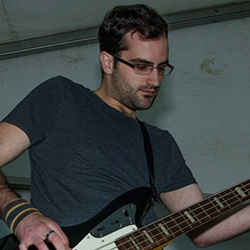 Chris Cropp
"Chris has a degree in music technology and grade 8 with distinction in acoustic guitar. He oversees the construction of all material for the Rock Star Academy Rock n Pop school where children between the ages of 6 and 14 are taught to play guitar, drums and keys. He has an impressive knowledge of music theory and uses it to develop lessons that are logical and progressive."
Synopsis"what it's all about"
The Let's Play Guitar course has been developed especially for children. The course uses familiar melodies and enjoyable exercises to teach good technique. Whether you are an absolute beginner or already know a bit this course will help improve your playing and give you skills to enjoy your instrument.
Structure"what you will learn"
This course is time released to make sure you have enough time to practice each lesson before moving on.

Lesson 1 - Understanding Tab - Learn to play Twinkle Twinkle Little Star
Lesson 2 - Posture - Learn to play Old Macdonald
Lesson 3 - Fretting Hand Finger Placement - Learn to play I'm a Little Tea Pot
Lesson 4 - Plucking the String - Learn to play Incy Wincy Spider
Lesson 5 - Plucking Hand Position - Learn to play Row Row Row Your Boat
Lesson 6 - Fretting Hand Position - Learn to play The Grand Old Duke of York
Lesson 7 - String Tone - Learn to play Bah Bah Black Sheep
Lesson 8 - Fretting Hand Finger Positioning - Learn to play Yankee Doodle
Lesson 9 - Timing / Rhythm - Learn to play Humpty Dumpty
Lesson 10 - Skills Recap- Learn to play Rock a Bye Baby